Design Assistance/Concurrent Engineering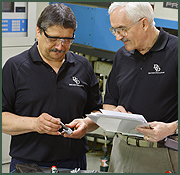 (Click image to enlarge)
DeCardy's concurrent engineering process has helped our OEM designers to successfully develop and produce zinc die cast components faster and more cost effectively. During the concurrent engineering process DeCardy engineers consult with the OEM designer during the design phase to resolve issues that might negatively affect tooling and production. The OEM designer can then identify and evaluate their options and determine the design balance across cost, quality, speed and production efficiency.
Examples:
Casting drill spots versus casting a cored through-hole. Even though an extra step is required, offhand or secondary drilling after casting can often be simpler, faster and less expensive than creating a complex die with numerous cores.
External undercuts or projections on sidewalls often require dies with slides which increase the cost of the tooling. Designed properly however, slides can reduce metal use and produce a more uniform casting wall thickness among other advantages. Depending upon production quantities these savings often offset the cost of tooling producing a stronger part at a lower cost.
Single- versus Multi-Cavity casting can be difficult to evaluate when dimensional tolerances are critical. Understanding tolerance thresholds and taking advantage of multi-cavity efficiencies can produce significant project savings.
Through our Concurrent Engineering Process, DeCardy has received multiple awards for design innovation from NADCA's International Die Casting Competition in the Healthcare, Automotive, Communications and Computer industries.